BullGuard Antivirus Review 2019 (20% OFF)
An article by rockstar
No Comments
Bullguard Premium Protection includes the company's award-winning malware protection as well as a host of other features including parental control and PC optimization. And, it's fair to say that even Bullguard's free version lives up to the illustrious reputation of its virus detector.
Security
Bullguard's malware protection has consistently ranked among the best in the industry by leading independent testing laboratories—meanwhile, all my virus and malware samples were flagged by the system in a matter of seconds.
Quick, full, and custom scanning options are included, along with a quarantine zone where users can release or delete suspicious files. One of the nice features of quick scan is that it's possible to run it in one click right from the dashboard—no second window is even opened, and a progress bar beneath the antivirus icon shows the scan's progress.
My test scan took only 90 seconds to run and the detailed log provided scan speed, number of files skipped, and exact completion time. I was impressed by how light the scan's resource footprint was—during both idle operating state and full scanning mode it didn't take up more than 2% of CPU.
Premium Protection also includes a vulnerability scanner. This scans for potentially risky practices such as running outdated programs, being connected to unsecured WiFi networks, and using drivers that haven't been digitally signed.
One area in which Premium Protection may not excel, however, is its ransomware protection. The program does not feature a dedicated ransomware scanner and quarantine area, and although I did not have a sample to test with, other users have reported that this aspect is not nearly as effective as its malware detection.
Features
In addition to the antivirus, Premium Protection includes some useful additional features. These include:
Firewall protection
Although Premium Protection doesn't include a proprietary firewall, it makes Windows' built-in protection substantially easier to work with. The program displays a list of installed programs along with their basic firewall rule (allow or block). For more advanced configuration changes such as limiting connection ports, users are prompted to click a button which brings them to Windows Firewall with Advanced Security.
This isn't the most advanced firewall manager on the market, but it should be more than enough to make sure that rogue system programs are not connecting to the internet and leaking users' personal information.
Backup
Premium Protection features a decent backup utility which integrates well with several cloud storage providers (including Dropbox, Google Drive, and OneDrive) as well as physical media like external USBs, network storage devices, and extra internal hard drives. Users can create profiles in which they specify which files they want copied to the cloud and then assign each backup to a specific destination. Full scheduling controls are also provided, or the backup can be set to only run upon manual initiation.
PC Tuneup
Premium Protection also has a built-in system tune-up and optimization tool which performs helpful actions such as defragmenting the Windows Registry and cleaning browser caches. It also eliminates unnecessary Windows' files such as the temp directory, various log files, and crash dumps.
On my first run, this utility flagged 734MB for deletion. This was an impressive amount of disk space to free up, and after carefully inspecting those files, I chose to let the program do its work. It's also possible to save your cleanup processes for future scans so you don't have to check what's been flagged each time the program begins.
Parental Control
Parental control and web filtering are important concerns for many users, so I was glad to see them in the product. The tool seamlessly imports all user accounts from the operating system, so you can apply user-level protections immediately. The program includes templates based on user age as well as the ability to configure whitelists and blacklists, and there's a very granular scheduled access control program.
In addition to restricting internet access to certain hours per day, administrators can configure maximum usage periods. This ensures that children don't access inappropriate websites and keeps their internet usage to reasonable durations. Finally, the parental control tool automatically flags any chat programs for blocking. Users can also manually add programs that haven't been automatically listed, which I had to do for Rambox, a popular program for managing multiple messaging accounts.
Home Network Scanner
Premium Protection includes a home network scanner, which monitors all devices on the network and provides real-time notifications. As soon as my WiFi-connected printer came online, I received a popup notification that a new device had joined the network. I was able to assign any connected a device a custom name, see its MAC and IP addresses, and even add it to a category (such as "tablets"). This is a wonderful feature for anybody concerned about unauthorized network access.
Ease of use
Premium Protection is an easy program to set up and use. I downloaded the installer directly from the website and there were no separate components to install—everything can be accessed from a single dashboard.
Visually, the program is also very nicely designed, and notifications are kept to a minimum. A simple notification counter also sits at the top of the dashboard at all times, so it's easy to see whether there are any issues requiring attention.
Support
Bullguard operates email support in eight languages, live chat support, and an online help center. Although the company commits to a 24-hour response time, my query was answered in just under two. Live chat was a little less quick—I had to join a queue of 10 users seeking help, and it took about four minutes to get a representative. Online documentation is adequate and for a one-time fee, the company offers remote installation and setup assistance.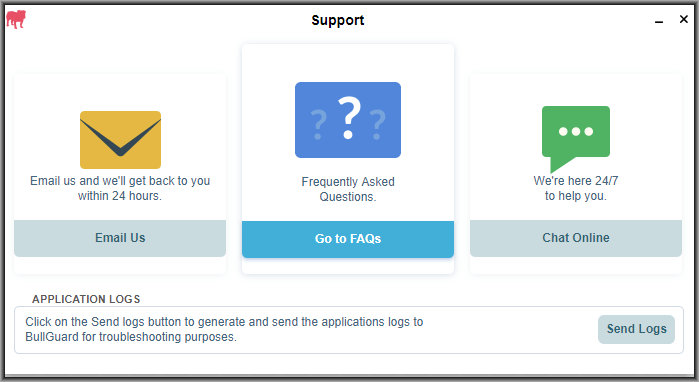 Pricing
Premium Protection, which can be used on Windows, MacOS, and Android, isn't budget-friendly if you're only protecting one device, but a single license can be activated on up to ten devices. This is one of the most generous multi-device offerings I've seen and if you have that many devices I strongly recommend Bullguard.